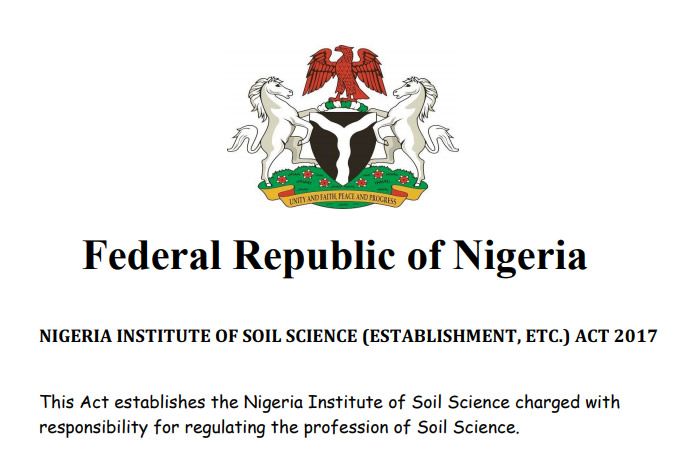 After so many years of hard work, the acting president Prof Yemi Osinbajo GCON finally signed into law the Act 2017 approving the establishment of the Nigeria Institute of Soil Science. The announcement which was signed by the acting president on the 8th of June 2016 was applauded by the leadership of the senate as a good development in the agric sector. According to the Chairman of the committee, Senator Abdullahi Adamu, the new law would help Nigeria to achieve the need for food security by eliminating the acts of indiscriminate use of fertilizers without ascertaining their suitability to the soil. President of the Senate, Dr. Bukola Saraki while applauding the emergence of the Law, expressed the hope that it would improve investors' confidence in the Agriculture sector.                                                                                                                                                                                                                                                                    The institute was approved as a non-profit organization charged with the following deliverables;
Prescribe and regulate the standards of academic qualification and practical skills to be attained by the persons seeking to become registered as members, Associates or Fellows of the Institute
Regulating the practice of the profession of Soil Scientists;
Establish, update and maintain a register of Soil Science practitioners under this Act according to their various ranks and to regulate the prerogatives and privileges pertaining to those ranks;
Ensure that the Soil Science Practitioners in Nigeria uphold the ethics of the profession and guarantee the sustainability of high quality soil;
Advance the education, science, technology and art of soil science and crop production in collaboration with Zonal Coordinating Research Institutes;
Promote soil quality management;
Educate the public on soil science activities;
Advise and encourage the enactment and the enforcement of laws that will guarantee efficient production and consistent supply of high quality food in Nigeria;
Promote rapid sustainability of high quality soil through scientific methods, and regulate all issues pertaining to soil management in Nigeria;
Corporate or affiliate with any relevant association and soil science body either locally or internationally, etc.
The Institute's secretariat is temporarily located at the building of the National Programme for Food Security, 127 Adetokunbo Ademola Crescent, Wuse 2, Abuja
Download file Now THE-NIGERIA-INSTITUTE-OF-SOIL-SCIENCE.Act_.doc1_